Finalist of West Oxfordshire Business Awards 2014
The Cotswold Tailor are excited and honored to announce that we have been shortlisted for the West Oxfordshire Business Awards (WOBA 2014) 'New Business Award Category' sponsored by Witney Business & Innovation Center.  
The Cotswold Tailors growth since we setup in the summer of 2012 has exceeded all expectations.  Sales are up more than double and we continue to offer exceptionally quality at fair prices. Being shortlisted for the award is a pat on the back for the hard work my team has invested in growing the business and I very much look forward to taking them to the WOBA 2014 Awards dinner on Friday 14th March. 
We would like to wish all other finalists the best of luck and a big thank you must be given to each of the awards sponsors. 
http://www.woba.co.uk/content/woba-2014-finalists-announced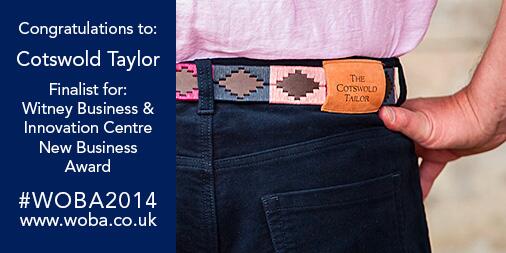 ---
Also in The Cotswold Tailor British Manufacturing